Schools Are Deliberately Deceiving Parents
Sharing and expanding upon my most recent column in my local paper
I write a monthly column in my local paper, The Valley Breeze—many call it by its nickname, 'The Breeze.' It's that kind of paper. Unlike so much of my work that is more national in nature, my local paper allows me to reach a totally different audience, including many readers who are never going to stumble upon my work on Twitter or in an online publication. People can pick up this free paper at all the local donut and coffee places, supermarkets, gas stations and drug stores. It comes out every Thursday.
My column this week has stirred up much more reaction than most and I have personally heard from more people than ever before. Since most of my Substack readers are unlikely to come across the column, I have decided to share it here and expand a bit on what I said in the 600 words I am allowed.
---
This column is only about the sanctioned deception of parents. Contrary to what critics, including local teachers, have publicly claimed it says, there is nothing in it to disparage children who are gender dysphoric or grappling with their gender identity or any other part of their identity. It is true that districts in my state and around the country have made gender ideology part of the curriculum, usually under the umbrella of "health education" even in the early elementary grades. But this particular column is not about that.
I reviewed actual gender support plans with my own eyes to confirm that they are being implemented without any parental notification or involvement. Teachers, counselors and office staff have confirmed all of it. Parents shared stories of the emotional and mental health related consequences they have witnessed in their children during the time they were on a plan without their parents' knowledge. I also spoke to parents who were involved in the creation of the support plan for their child. In those cases, there was no deception. The column is not about them either.
People can and do disagree about the bedrock principle of parental rights as it relates to the role of schools. Robust debate can and should be had. But we all need to know what is actually happening before that can happen and far too often, parents have no idea. The purpose of the column was to tell the truth about the deception that is baked into the gender support plans in many of the schools that our children attend (and we fund!) Some cheer this truth. Others believe it to be a betrayal. What matters is that they know.
Below is a gender support plan from a public middle school in Rhode Island.
Rhode Island Department of Education guidance is here.
Barrington Schools' Transgender protocol and support plan can be viewed here. Below is a screenshot of part of the first page. To view the whole plan, go to the link and scroll down to page 11.
And here is a Twitter thread by journalist and author Abigail Shrier about a middle school in New York.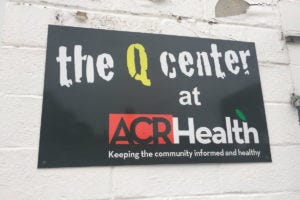 acrhealth.org
The Q Center - ACR Health
The Q Center at ACR Health is a safe spaces for lesbian, gay, bisexual, transgender, queer, and questioning youth, their families, and allies to gather, share, and receive support. Q Center programming promotes equality, celebrates diversity, provides resources that cultivate pride and leadership sk…